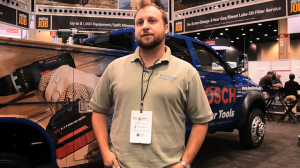 As we've been reporting here on The Working Blog, Chrysler for Work spent the past few weeks traveling across the country from trade show to trade show. Our objective at these shows was multifaceted. On one hand, we were there to share the virtues of Chrysler Group vehicles with those in attendance who may not have been familiar already with the newest models. The goal was also to collect new interviews for our Real People, Real Businesses blog series.
With our travels now at an end, we turn our attention to the real people we met along the way. First up is Matthew Dube from Vidon Plastics in Lapeer, Michigan. Matthew, who was kind enough to chat with us from the floor of the Remodeling Show in Chicago, weighed in eloquently on the question we ask nearly all our interviewees: What, in your opinion, are the attributes of a capable work vehicle?
Please enjoy this interview with Matthew and stay tuned for future installments of Real People, Real Businesses.