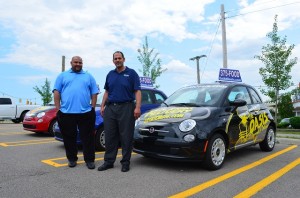 Two weeks ago, our "Real People, Real Businesses" story on Mo Dari, co-owner of The Oasis Restaurant & Delivery, featured two informative videos and promised more to come. Today we make good on that promise with a third video from the interview.
In this one, Mr. Dari discusses the value of having a strong presence on social media for your business. Regular readers of The Working Blog will know that we frequently advocate for the same idea—one need only look at our blog post on crafting voice, the one on Facebook strategy or the one on starting your own blog for proof. Still, when a successful entrepreneur like Mo Dari comes to similar conclusions about the value of Facebook, Twitter and the rest, it only adds credence to our claim.
Visit www.facebook.com/eatatoasis and/or www.twitter.com/eatatoasis for a firsthand look at how Oasis Restaurant & Delivery develops social media content relevant to the brand.
Also, please feel free to share your own experiences with social media in the comments section, a brand new feature on The Working Blog.
Do you have a story to tell? We are always open to meeting new people and connecting with real businesses across the country. If you'd like to be featured in our "Real People, Real Businesses" series, you can easily reach out to us on Twitter or on Facebook. We'd love to talk.