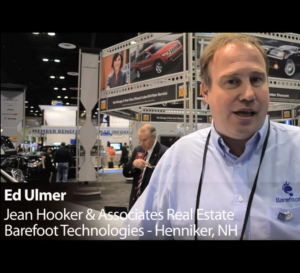 Every Friday on The Working Blog, we publish another entry in our "Real People, Real Businesses" series. We're featuring YOU, the small-business owners and the real drivers of the economy. Why did you start your small business? What makes you tick? Why are small businesses so important?
We'll also feature insightful guest posts from thought and industry leaders and BusinessLink® dealers from around the country who partner with and add value to small businesses.
We're always open to meeting new people and connecting with real businesses across the country. If you'd like to be featured in our "Real People, Real Businesses" series, you can easily reach out to us on Twitter or on Facebook! We'd love to talk.
Today, we're featuring Ed Ulmer, a Realtor® with Jean Hooker & Associates Real Estate, and also sales director at Barefoot Technologies, a vacation rental software company. Why the two different roles? Because, according to Ulmer, buying a home and taking a vacation are two of the biggest and most important things in one's life.
It's tough to disagree with that.
For showing certain properties to prospective buyers, Ulmer drives a 2008 Jeep® Wrangler Unlimited because it helps build relationships with people. For example, when Ulmer drives younger couples or buyers looking for a home off the beaten path, he knows that he immediately creates a deeper connection with them when he's in his Wrangler.
Finally, Ulmer has sage advice for small business owners. Do your research. Know your niche. Understand how to generate sales.
"There are a lot of other people out there trying do the same thing you are," Ulmer says.
"What sets you apart?"