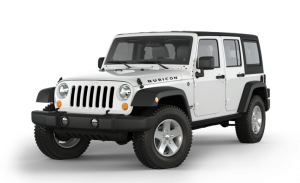 Known for navigating the most rugged trails, the toughest terrain, and the worst conditions, the Jeep® Wrangler is a legendary performer for the off-road set. Perhaps more than any vehicle, the Jeep Wrangler and Wrangler Unlimited models represent hard work and taking challenges head-on, two characteristics that small business owners everywhere embody every day. The Jeep brand has been inextricably linked to hardworking Americans like service members, mail carriers, construction workers, snow and ice managers, and more. That legacy continues today with Jeep Commercial Vehicles and the Jeep Wrangler, a vehicle fit for small businesses, on or off the road.
Capability
Like American's across this great country, the Jeep Wrangler and Jeep Wrangler Unlimited models personify a long history of adaptability, determination and rugged, hard work.   Maybe you're a contractor checking out a new construction site. Or you're a Realtor® in a geographic location with unpaved roads. Or your business is in the city, and you need something to go off-roading in during the weekends.  Jeep Wrangler's heavy-duty front and rear suspensions get you wherever you need to go.  Need to tow a trailer? The Wrangler Unlimited has a 3,500-pound towing capacity (when properly equipped).
Versatility
The Wrangler is the perfect complement to your business image.  Let's look at Dan and Jenny Mulligan, they run a print and graphics business and rely on their Jeep Wrangler Unlimited to carry everything from their daily deliveries to their dog to supplies to build a fort for their kids. Watch their testimonial to see how they enable their successful business with a versatile Jeep Wrangler Unlimited:

Seating for five and a 60/40 split rear seats enable your Jeep Wrangler Unlimited to carry the optimal combination of people and cargo. And with the rear seat folded forward, the Wrangler Unlimited gives you 82 cubic feet of total cargo volume. Simply put, your Wrangler Unlimited can make quick work of almost any terrain while hauling some serious freight.
Power
Under the hood, the 3.6L Pentastar® V6 engine powers the Wrangler Unlimited's phenomenal on-road performance and its ever-capable off-road capabilities. The engine produces up to 21 EPA-estimated HWY MPG, 285 horsepower, and 206 lb-ft of torque. And all Jeep Wrangler models come equipped with a 4WD system so that no matter the weather or terrain, your Jeep Wrangler has the power to make a delivery, show prospective clients a new home, or carry cargo to any destination.
Style
Let's face it: People love the Jeep Wrangler for its style, too. With its classic and rugged edges, seven-slot grill, and round headlights, its look harkens back to Jeep vehicles of the past while maintaining a decidedly modern aesthetic. With our On the Job program, we offer incentives to push that look – and your small business – even further. Use our commercial graphics allowances to stand out even more!  Wrap your Jeep Wrangler with your business logo or creative company branding.
With a hardworking past, present and future, the Jeep Wrangler and Jeep Wrangler Unlimited models are capable enough to be your small business vehicle of choice, no matter where your business may take you. And once you've purchased a Wrangler for your business from any of our BusinessLink dealers , you're automatically enrolled in the BusinessLink® program. Perks of BusinessLink membership include priority next-available bay service, extended service/repair hours, free loaners for select vehicles, free shuttle services, a dedicated account manager, and more.
So what are you waiting for? Visit a Jeep brand dealership near you to find the newest hard worker for your business, a Jeep Wrangler.